PEOPLE OF GOLD
Details

Created on Friday, 16 October 2015 17:16
Written by Marian Moore
Marian @ Krysan
THE WELLBEING CONSULTANCY
Planting Golden Seeds in Northumberland, Tyne & Wear, and Durham
___________________________ 
Key words
Relationships. Books. Journalling. Technology. Stories. Healing. Voices. 
 P E O P L E   O F   G O L D
by
Marian Moore (NE Storyteller)
Kindred Spirits (Everywhere)
Greetings from North East England 
19 October 2015
Alloha

 
Relationships revisited.
Today, I received a timely prompt via Alan Cohen in Hawaii to revisit all my relationships (past and present) through the eyes of lightheartedness and joy. I was reminded that the nature of love is freedom and empowerment. It is about play, delight, and celebration.  It is about supporting each other to be ever more passionately creative. So, with all of this in mind, I proceed on my merry (highly creative) way!  No problem.  Bit of a plan!
10 October 1915 
29 October 1915
The above are the dates of birth of my parents.  Do the maths and you will see that October 2015 is a special month for me and my family, a month of celebration - two 100th birthdays.  I mention this publicly because my parents were special people - the salt of the earth.  Despite the sorrow, poverty and hardship of their early years, they grew into people of gold.
Joe and Betty (my parents) seemed instinctively to know that relationship was never intended to be heavy, constricting, and soul-consuming. It is never about projecting need and blame and judgment upon others or ourselves. Yes, there is life beyond processing. If there is one purpose to relationship, it is to empower each other to be more comfortable, confident, and alive in who we already are
I am asking you to pause a while throughout your day to take a heart-reading.  Ask yourself, "In this moment, is my heart light or heavy? Am I pandering to the fears of others, or proceeding from my inner strength? Have I given my power to appearances, or do I remember the truth?"  
The lesson is the same for all of us: enjoy your life.
Everything else is details. Forget about the ugly monster waiting to devour you; he is a figment of somebody else's imagination. Your own imagination can take you to far brighter places. We have been taught that spirit and matter are different, but they are not. Matter is an expression of spirit, and in the end, the only thing that matters is spirit.
Ask my friends.  Better still, ask me ... 
Building a home library
Read.  Read.  Read.
Today, I am going to share with you a few of the titles I have drawn at random from my home library to assist (maybe) in the writing of this, my own creative idea of a 'modern' journal - or blog.  
I should mention, of course, that I love reading with a passion, this since I was but three years old!  You will have heard it said that when the pupil is ready, the teacher(s) will appear ... well, they did and still do.  
Here is a small sample of books from my library:
SCOTT PECK, M (1978), The Road Less Travelled: a new psychology of love, traditional values and spiritual growth, Pub. Rider, London.
STORR, ANTHONY, (1983), The Essential Jung: selected writings introduced by Anthony STORR, Pub. Fontana Press, London.
THALER & SUNSTEIN, (2009), Nudge: improving decisions about health, wealth and happiness, Pub. Penguin Books, LONDON.  

SCHWARTZ, ROBERT, Your Soul's Plan: Discovering the real meaning of the life you planned before you were born, Pub. Frog Books, Berkeley.
Each of the books mentioned in this blog is a potential life-changer for the open-minded and open-hearted.  Each in its own way is a treasure trove of knowledge.  So, my virtual friends, I collect non-fiction books and take delight in 'knowing' each one - as I take delight in 'knowing' you.  
Ask my husband!  Better still, ask me ... 
Keeping a public journal
Write.  Write.  Write.
If it's creativity advice you are after, then look no further than a book written by two friends of mine at Pen & Tonic, a small organisation based in Newcastle upon Tyne. Like me, they are former teachers with a passion for books and for writing.  We three are not alone in this, by any means: "The brightest spot of all is that at least I can write down all my thoughts and feelings; otherwise I'd absolutely suffocate." - Anne Frank.
Here are the details of their excellent book on the art of writing for health, a best-seller in a crowded market-place, but a heart and soul job for creative writers (and teachers):
PEN & TONIC, (2011), Writing exercises that Work: a handbook of tips and exercises for using writing for health with groups and for personal development, pub., United Kingdom, Pen & Tonic. 
My own particular way of approaching the experience of writing does require something in the way of research (even access to a computer and a website!).  That's the challenge and as therapeutic for me as simply 'putting pen to paper' in 'the good old-fashioned way' that creatives usually recommend.  It's practice that makes perfect whatever we do.  Correct me, if I'm wrong.
Writing using new information technology has certainly helped me to regain the dignity I once lost - entirely!  I am again travelling through life as a whole person. Re-invented and with a brand new story, I am even part of a growing army of 'techno-grans' popping up all over the place. Once again, I am 'my own special creation' with an Apple iPad Pro firmly (and happily) in my sights.  Wow!  That really will up the game of this 73 year old.  Watch this space.

Ask my grandchild!  Better still, ask me ... 

Telling stories that heal
A little gem.
I turn now to a gem of a book written by a Roman Catholic priest who lives near Scarborough in North Yorkshire, someone well-known throughout Britain and Ireland for his powerful healing ministry.  He is the author of several books including the one in my hand, Stories that Heal.  The author's name is Michel Buckley and the book starts thus:
"I like stories.  I always have done.  My father was a born storyteller.  It was part of the Irish in him. As children we sat enthralled for hours, night after night, in front of the fire, as he told stories of his own childhood, and of the people who had influence on his life, making him the kind of person he was.  It didn't matter if the were famous politicians like Parnell or Julia Murphy, the shopkeeper at the corner of the street. My father knew them and we saw them through his eyes." 
Word poetry. This is the book:
BUCKLEY, MICHAEL (1989), Stories that Heal, pub. Carton, Longman and Todd ltd, London.
A legacy of song.
My father left me a legacy, too.  He was a coal miner with a responsible and dangerous job under the ground, but he was also a singer with a fine tenor voice.  Naturally musical (and incurably romantic) he frequently took to the stage, but even more frequently he sang at home for generations of his family. Some of you may have noticed that I often conclude with music - a song I remember from my childhood in the unforgiving coalfields of Old Durham.
In the 1940s and 1950s, the fine Irish tenor voice of JOSEF LOCKE was all the rage in theatres nationally and internationally.  Locally, in North East England's Workingmen's Clubs, my father entertained with a similar repertoire of songs and with a similar talent for connecting with others at the level of the heart.  
In their own way, in their own time and in their own place, both men were celebrated for their singing and for their ready wit. I know because I was there from childhood and with a ringside seat - often on my father's knee in front of the fire.  Consequently, I effortlessly learned (and internalised) many if not all the songs of the post-war period.  This was a time for rebuilding shattered hearts and minds after World War II - in words and music.  
I simply picked them up.  
Good story-tellers and golden-voiced singers can heal even the most broken of hearts, and the most damaged of minds - if we give them half a chance and really listen.  Cast your mind back. Think Vera Lynn ... and ... and ...
Ask my children!  Better still, ask me ... 
Allowing stories to travel
The origin of consciousness.
Julian Jaynes, a one-time Princeton psychologist, is a learned friend whose wonderful book on the mind was delivered into my hand as a surprise gift from someone living in Canada (Zz).  This was a scholarly man who had heard my story of Voices and Visions and took pity on my sorry plight.  This was a long while ago, but I treasure the wise words in the book; even more, I treasure an act kindness by someone I had never, ever met.  This is the book:
JAYNES, JULIAN (1976), The Origin of Consciousness in the Breakdown of the Bi-cameral Mind, pub. Houghton Mifflin Company, Boston.
It was Zz who first lit a spark in me to grow my own collection, my own library of good books.  Zz is sadly no longer with us, but his spirit lives on as gold - a man (like my own father) brave beyond my ken.  The Julian Jaynes' book (from Canada) is not an easy read, but it is so worthwhile in providing comfort and understanding to the perplexed and anxious of this world.
Here's quote from a reviewer: "When Julian Jaynes speculates that until late in the second millennium BC men had no consciousness but were automatically obeying the voices of gods, we are astounded but compelled to follow this remarkable thesis through all the corroborative evidence." - John Updike, in the New Yorker.
Seen by many as controversial and even 'rendering whole shelves of books obsolete', Julian Jaynes' ideas are said to be the most influential of the second half of the twentieth century. It is indeed a humbling text, the kind that reminds us thinkers of how much thinking there is left to do.
Significantly, Julian Jaynes' words also speak of the privacy of it all ... !  
Not to put too fine a point on it, we experts through experience in mental health may even be people of gold - to others.  There's something called 'Post Traumatic Growth'.  And that's a great story for the telling on a better day than Sunday.  Deep, unchartered waters?  No, not quite, but a good place to end.
Ask my neighbours!  Better still, ask me ... 
O, WHAT A WORLD

of unseen visions and heard silences, this insubstantial country of the mind?  What ineffable essences, these touchless rememberings and unshowable reveries?  And the privacy of it all!

- JULIAN JAYNES, 1976

 

---

 

JOSEF Locke singing The Holy City (Jerusalem)

http://www.youtube.com/watch?v=vwG2vGb1dbk&sns=em

Or

Click below for A SYMPHONY (blog re Old Durham Coalfield)
---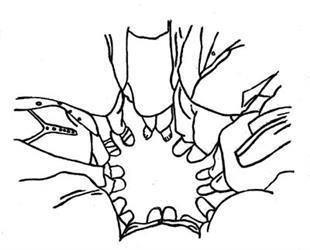 Dear Marian
Reflection 278

Welcome!


Indefinable

One seeks in vain for labels, worthy labels that will stick to this Non-existence which is infinitely more real than any of its products, than anything which exists. 

(Douglas Harding. Head Off Stress.)
Warm Wishes
Richard Lang
---
BLOG'S END
   483 hits @ 2015-11-09